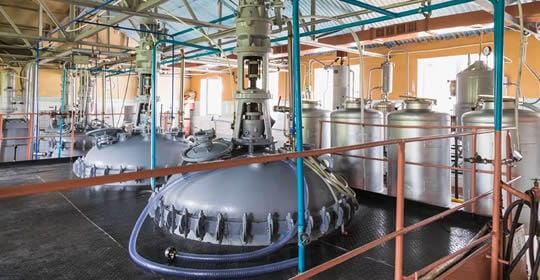 In early 2014, Watson International Ltd (Watson for short, http://www.watson-int.com) under FCAD Group had begun construction of a pilot plant for the production of 2,5-Furandicarboxylic acid (FDCA, CAS 3238-40-2) and its material 5-hydroxymethylfurfural (HMF, CAS 67-47-0) in Ningbo, China. FDCA as a chemical building block is usually used to produce innovative green fuels, chemicals and renewable materials. PEF (poly-ethylene-furanoate) which is just based on FDCA is expected to compete with petroleum-based polyesters such as polyethylene terephthalate (PET) and has already demonstrated superior properties such as barrier properties and ability to withstand heat.
Background of the furanics production plant
The economic production of 5-hydroxymethylfurfural (HMF, CAS 67-47-0) through the conversion of cellulose has been a challenge for decades because of its inherent instable property. Watson formulated a stable HMF ether derivative (RMF) under acidic conditions through its proprietary catalyst. The patented catalytic chemical process converts carbohydrates into furanic compounds. Ningbo was chosen as the location for the pilot plant due to the availability of good infrastructure and supporting services for chemical factories.
Design and construction of Watson's plant
The plant covers more than 1000m2 and will have a nameplate capacity of 50t/y.
The scale-up will include a semi-works plant with a name plate capacity of 200t/y to come on-stream by 2016.
The first industrial-scale FCAD plant is expected to be operational in 2017 and will have a capacity of 10kt/y.
Process technology incorporated
The catalytic chemical process uses C6 and C5 sugars from non-food biomass as feedstock. Carbohydrates of the biomass are dehydrated to produce 5-HMF derivatives, called RMF. Catalytic oxidation of RMF produces the 2,5-Furan-dicarboxylic-acid (FDCA).
The FDCA and its derivatives can be used as monomers for producing polymers or as building blocks for coatings and plasticizers.
Polymerization of FDCA by polycondensation and transesterification with diol components produces polyesters.
The RMF can be hydrogenated or converted into furanics ethers by etherification. The ethers can be blended with gasoline, diesel or kerosene.
Watson's catalytic process has several benefits such as cost efficiency, processing time and environmentally friendly production over the biological production. The technology can also be equipped into the existing refineries and chemical plants. Watson plans to license the technology for commercialization on an industrial scale.
Market growth
The thermoset, plastic, coating and plasticizer materials represent a multibillion euro market. The European fuel market has a huge opportunity for bio-fuel blends due to high demand for diesel. Many countries also have a target of increasing the usage of bio-fuels to about 30% by 2030.
"As you know there is a very strong demand from brand owners for 100% biobased and 100% recyclable bottles. We believe that PEF based on FDCA will be price competitive and will have superior properties in comparison to PET bottles. With the pilot plant we are taking an important step to make larger volumes available for the material development."
Market potential FDCA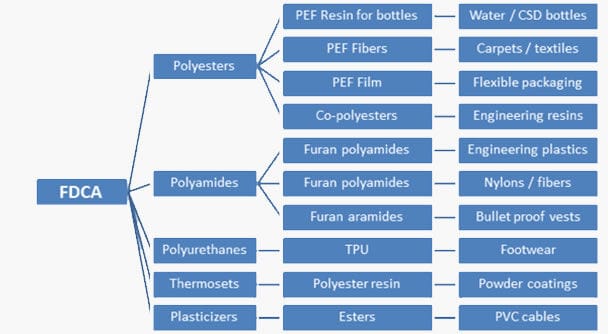 FCAD's Related Products
1. FDCA & Next Generation Polyester
2. FDCA, 2,5-Furandicarboxylic acid CAS 3238-40-2
3. FDME, Dimethyl Furan-2,5-dicarboxylate CAS 4282-32-0
4. DMF, 2,5-Dimethylfuran CAS 625-86-5
5. 2,5-Dimethyltetrahydrofuran CAS 1003-38-9
6. HMF, 5-hydroxymethylfurfural CAS 67-47-0
7. FDM, 2,5-Furandimethanol CAS 1883-75-6
8. 2,5-Diformylfuran CAS 823-82-5
9. 2,5-dihydroxymethyl tetrahydrofuran CAS 104-80-3
10. 2,5-Furandicarboxylic acid CAS 3238-40-2 at Watson International Ltd