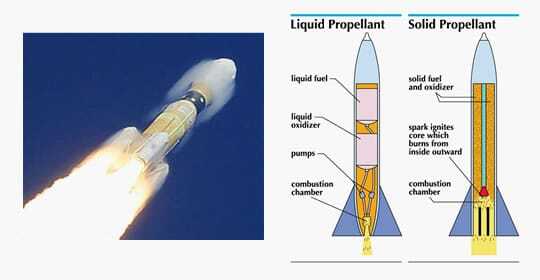 Vesna Rodić, BSc (Eng)1)
Mirjana Petrić, MSc (Eng)1)
Apart from the basic components, such as oxidizer, mostly ammonium perchlorate (AP) and binder, as cured polymer containing plasticizer, bonding agent, antioksidant, curing rate modifier etc. which regulate
physico-chemical and mechanical characteristics, composite rocket propellants (CRP) comprise versatile additives. Some of them function as burning rate modifiers, mechanical characteristic additives, improve processibility etc. The physico-chemical behaviour of propellants vary significantly depending on the additive type and quantity. In addition to the effect of the catalyst on polymer curing, these compounds can establish the secondary bonding to propellant components and influence the viscosity and
mechanical characteristics of the CRP.
During many grains production processes from CRP as thermosetting material hardening at enhanced temperature, propellant viscosity is required. The minimum time needed within which the propellant cast is satisfactory must be observed, so that homogeneous propellant consistency is provided during grain casting. If viscosity value changes significantly over time, quality of the grain can vary depending on the period of the casting process: has it been cast at the beginning or end of the process.
The available time for homogenizing and casting the propellant after adding the curing agent is called "pot life" in the terminology of CRP. That period depends on the curing system, type and quantity of the filler and additives present. In most cases, a small amount of burning rate catalyst, especially iron, chrome and copper compounds, shorten the pot life [1, 2]. In order to prevent such effect, additives with which metals from these catalysts build appropriate, non-catalyst complexes are applied.
The efficiency of additive is determined by its chemical structure. Depending on the type of polymer applied in the binder matrix, one kind of additive will be chosen. Ferryacetyl acetonate, ferryoctoate and different types of amine are used in CRP based on PU, because of their effect on pot life. Certain types of compounds like acetyl acetone, tetracycline and substituated aniline retard the curing reaction, but at the same time provide networking over a suitable period of time, ensuring the required propellant quality [3, 4, 5]. TC, shown in Fig.1, can form a metal complex across carboxyamide (ring A) or with hydroxylketo part of the rings (B, C)
Figure 1. Tetracycline
Figure 2. Triphenyl bismuth
Figure 1. Tetracycline
For cure rate controlling of propellants based on hydroxy-terminated polybutadiene (HTPB) prepolymer, the catalyst system comprising organo-metallic compounds and carboxylic acids or compounds convertible thereto by reaction with active hydrogen (anhydride carboxylic acids) are used. Triphenyl bismuth and maleic anhydride are the most frequently used (Figure 2 and 3), as well as their combination with magnesium or calcium oxide [6]. In addition to TC, aniline and its derivative are efficiently used as this type of additives for carboxyterminated polybutadiene (CTPB). Components for improving mechanical properties such as bonding agents have significant influence on the viscosity by means of chemical structure and bond creation with propellant components [7]. These compounds ensure pot life control and short curing period, resulting in energy saving and capacity amplification in propellant production.
Solid Rocket Propellant and the intermediates offered by FCAD
1. Triphenylbismuth CAS 603-33-8 which is added to the fuel of rocket as curing agent.
2. Tris(4-ethoxyphenyl)bismuthine CAS 90591-48-3. Compared with Triphenylbismuth, Tris(4-ethoxyphenyl)bismuthine is a new one which can lower the curing temperature of fuel grain
3. Ethylferrocene CAS 1273-89-8 was a useful addictive to be added to rocket propellant, to promote the burning rate of it.
4. Acetylferrocene CAS 1271-55-2 was a useful addictive to be added to rocket propellant, to promote the burning rate of it.
Reference
[1] Hoffman, E. Richard, Cure Rate Inhibitors for Ferrocene-Containing Proppelants, US Pat. 4,352,700, Okt.5, 1982.
[2] Petrić, M. Tasić, D. Uticaj 1,3-diferocenil-1-butena na brzinu sagorevanja kompozitnih raketnih goriva, Naučnotehnički Pregled, Vol. LI, br. 6, 2001.
[3] Sanden, R. Tetracycline, an Aditive for Increasing Pot Life of Composite Propellants, Jahresagung 1982, 641-654.
[4] Tokui, H. Iwama, A. Pot Life Problem and its Measure with a Reduced Smoke Propellant, Production, Propellants, Explosives, Pyrotechnics 16, 105-109, 1991.
[5] Petrić, M. Uticaj tipa umreživača na viskozitet kompozitnih raketnih goriva na bazi karboksiterminiranih polibutadienskih prepolimera, Naučnotehnički Pregled, Vol. L, br. 4-5, 2000.
[6] Graham, W. H. Shepard, I. G. Control of Cure Rate of Polyurethane Resin Based Propellants, US Pat. 4,110,135, 1978.
[7] Petrić, M. Bonding agensi za kompozitna raketna goriva, Vojnotehnički glasnik, 2003, 1, 51-62.