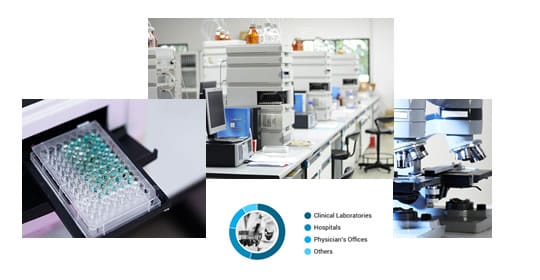 IVD RAW MATERIALS
Clinical Chemistry Raw Materials, Molecular Diagnostic Raw Materials, Immunodiagnostic Raw Materials and Coagulation Diagnostic Raw Materials
CUSTOM REAGENT
Custom development of the Enzymatic Reagent, Immune Turbidimetric Reagent and Molecular Diagnostic Reagent and provide after-sale service
GLYCOLIPIDS SCIENCE PRODUCTS
Custom development of Glyco-enzymes, Glyco-amino Acids, Sugar Nucleotides, Glyco-probes, Sugar Intermedias and Glyco-lipids
Jiangsu Watson Bio Ltd was started in early 2021 and acts as a research and development company under FCAD, dedicated to the production and supply of high-quality IVD (In vitro diagnostic) raw materials including enzymes, carbohydrates, antigens, antibodies and custom biochemicals. With a laboratory in Shanghai Jinqiao Development Zone, Jiangsu Watson provides excellent contract outsourcing services (CRO) with after-sale support.
GENETIC SCREENING, CLONING & EXPRESSION
Watson relies on the R&D platform of institutes and university key labs which have world-class R&D conditions and advanced high-throughput screening, gene cloning and expression technology.
REAGENT CUSTOMIZATION SERVICE
Strong technical to help customers develop and produce IVD (In vitro diagnostic) reagents in biochemical, immune turbidity, and POCT platform to let customers achieve high efficency.
Optimization & Transformation of Enzyme Molecules (IVD Use)
Watson has rich experience in enzyme resource exploration, optimization and transformation. It can explore new enzyme sources from huge enzyme resources and optimize and transform the most suitable enzyme molecules. Through the establishment of extensive and in-depth cooperation with the professional enzyme engineering research teams of many famous universities, Watson can grasp the frontier of enzyme engineering in time and quickly transform into the advanced technology of the company.
Watson can perform important enzyme functions such as enzyme activity, stability, substrate specificity, optimum pH, and organic solvent resistance. By rational design, new enzyme resources with greatly improved performance are quickly obtained to meet the application requirements of the target enzyme in different fields such as diagnosis, medicine, energy, washing and papermaking.
Selection of Molecular Modification of Enzyme
| | | |
| --- | --- | --- |
| TARGET ENZYME | TRANSFORMATION NATURE | RECONSTRUCTION EFFECT |
| LIPASE | Thermal stability | Increase 230 times |
| GLYCOSYLTRANSFERASE | Catalytic activity | Increase 380 times |
| GLUCOSE OXIDASE | Thermal stability | Increase 120 times |
| CELLULASE | Optimal pH | Reduce 2 pH units |
| FRUCTOSYLPEPTIDE OXIDASE | Substrate specificity | Selectivity increased 700 times |
| ESTERASE | Organic solvent resistance | Tolerance of 80% ethanol |
| Β-LACTAMASE | Stereoselectivity | Increase 200 times |
Optimizing Service of Freeze-drying Conditions of Protein (For IVD Use)
Proteins usually exist in solution after purification, but the storage time of protein solution is very short. A good freeze-drying process can preserve the activity of most proteins, improve the stability of proteins, prolong the storage time, and reduce the freight.
However, protein freeze-drying may cause loss of protein activity, aggregation and other denaturation problems. Watson has been exploring protein freeze-drying process for many years and has accumulated rich freeze-drying experience. It can customize protein freeze-drying process or optimize its original process for customers.
Our Advantages on IVD Materials
Widely recognized brand by our served customers
Featured products in stock for delivery at any time
Mature freeze-drying technology to ensure of easy transportation and storage
Timely after-sales service via email to support the use of our products
High quality materials with competitive price
Featured Antibodies and/or Antigens as IVD Materials
Vitamin: 25-Hydroxyvitamin D, 25-Hydroxyvitamin D3, Vitamin B12 and Folic Acid
Thyroid Function: Thyroxine t3, Thyroxine t4 and Reverse T3 (rT3)
Gonad: Estrogen like Estriol / Oestriol / E3, Estradiol / E2 and Estrone / E1; Progesterone like P4 and 17α-OH-Progesterone; Androgen like Testosterone and Androstenedione / A4 / AED / 'Δ4-dione
Hypertension: Aldosterone, Cortisol, Angiotensin I, Angiotensin II, Adrenocorticotropic hormone (ACTH / Adrenocorticotropin / Corticotropin), S-Adenosyl-l-homocysteine (SAH), Homocysteine (HCY)
Therapeutic Drug Monitoring (TDM): Cyclosporine (Cyclosporine A / Ciclosporin), Tacrolimus (FK506), Mycophenolic Acid (Mycophenolate / MPA), Sirolimus (RPM / RAPA / Rapamycin / Rapamune), Carbamazepine (CBZ), Phenytoin (Diphenyl Hydantoin), Valproic Acid (VPA), Phenobarbital (Phenobarbitone / Luminal), Methotrexate (MTX), Vancomycin (INN), Theophylline and Digoxin
Drug Abuse Test: Oxazepam (Serenid / Serax / Adumbran / Limbial / Vaben), Lorazepam (Ativan / Lorax / Quait / Temesta), Clonazepam (Antelepsin / Darkene / Clonex / Clonopin / Rivotril), Olanzapine (Zyprexa), Paroxetine (Paroxetin / Paroxetinum / Seroxat / Seroxat / Paxil), Methamphetamine, Cocaine (Jam / Erythroxylin / Methylbenzoylecgonine), Amphetamine, Marijuana (Cannabis), Acetaminophen (Paracetamol), Morphine, Oxycodone (Oxycodonum / Thecodine), Benzodiazepine (BZD), Buprenorphine, Phenobarbital (Phenobarbitone / Luminal), Theophylline, Propoxyphene, Opium and Ketamine