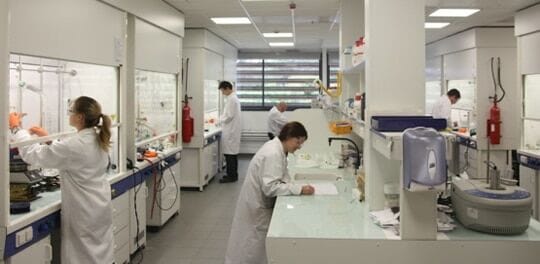 In our R&D centre, we have different teams focusing on developing fine chemicals of different classes. For example, we have several dedicated teams who separately focus on the development of general Heterocyclic Compounds,  Metallorganics,  Furans,  Organic Phosphine Compounds, Fumarate Derivatives, Halide Compounds,  Iodoisoxazole Derivatives, Basic Materials and etc.. We are also building more teams such as Ionic Liquid Team, Carbohydrate Team, Epoxy Resin Team to support our Formulation Development Team and satisfy the diverse requirement from our clients.
Growing out of our Amino Acid & Peptide Team, AP Noke Scientific is now an independent company who holds more than 1000 amino acids, 1300 peptides and dozens of peptide reagents  in stock and can undertake the most complicated custom synthesis of amino acids and peptides.
Though different teams are independent, our staff can work together on some projects under FCAD's assignment. Our "Cross Cooperation System"enable  our service  to be flexible and targeted, which is helpful and efficient when handling complex projects involving different classes of chemicals.
Expertise
| | |
| --- | --- |
| Acetylation | Acylation |
| Alkylation | Amidation |
| Ammonolysis | Bromination |
| Chlorination | Chloromethylation |
| Chlorosulfonation | Condensation |
| Cyclization | Dehalogenation |
| Dehydrohalogenation | Elimination |
| Esterification | Etherification |
| Formylation | Friedel-Carfts acylation |
| Fries rearrangement | Gabriel synthesis |
| Grignard reaction | Halide exchange |
| Hofmann degradation | Hydrogenation(catalytical) |
| Methylation | Newman-Kwart rearrangement |
| Nitration | Nitrosation |
| Oxidation | Phase transfer reaction |
| Reduction(Catalytical, metal hydrides) | Ring Fusion |
| Rosenmund reduction | Sandmeyer reaction |
| Saponification | Schotten-Baumann reaction |
| Substitution | Sulfation |
| Sulfonation | Transesterification |
| Vilsmeier reaction | Williamson ether synthesis |
Connect + Develop
In addition to our own Development Team, we have also built wide cooperation with chemical scientists externally through our "Connect+Develop" strategy. This can strengthen our development capacity and enlarge our vision when solving complicated problems.
The world is more connected today. In the areas in which we do business, there are millions of scientists, engineers and other companies globally. Why not collaborate with them? We now embrace open innovation, and we call our approach "Connect + Develop." Today, open innovation at FCAD works both ways — inbound and outbound — and encompasses everything from research to development, engineering to manufacturing, and business services to formulation design. It's so much more than technology.
Technological Capabilities
Chemical Research to remain competitive and meet the demand for more complex structures.

Manufacturing Support Service for process transfer from the development stage to production.
Manufacturing Capabilities from research level production to full cGMP manufacturing.

Application Research with continuous investment to bridge the gap between basic research and application.