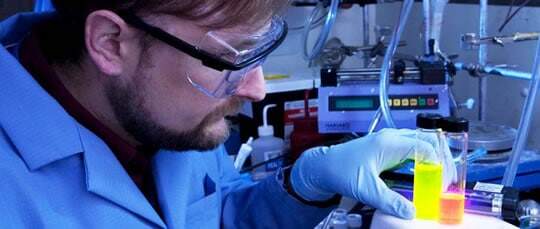 Our customers rely on FCAD to recommend quality chemicals at the right price, but more importantly for the right application. So the continuous investment in chemical application research is regarded as crucial for future success. When developing a new compound for some use, FCAD usually tries several similar structures or formulations at the same time, to accumulate the complete know-how information, which additionally enable us to suggest customized solutions even to slightly different requirement.
For example, ferrocenyl derivatives including Acetylferrocene CAS 1271-55-2, Ethylferrocene CAS 1273-89-8, and 1-Ferrocenylethanol CAS 1277-49-2 were one of FCAD's old focused classes. Today, FCAD not only studies more ferrocenyl derivatives, but also gets down to research into the applications.  Based on the knowledge of ferrocenyl use as side chains in pharmaceutical chemicals such as Chloroquinoline, cis-DDP and DHPM, FCAD successfully made progress in β-Lactam Containing Ferrocene.
Ferrocenyl derivative exhibits physiological activity of anti-malarial, anti-tumor, bactericidal, anti-inflammatory, treatment of anemia, inhibition of enzymatic activity and so on by virtue of its unique structure and diverse properties,

Good stability, low toxicity;
Aromatic, easy for substitution reaction and modification; Hydrophobic, attacking a variety of enzymes in cells, DNA, RNA by going through cell membrane;
Strong selectivity by its thickness of the sandwich structure, which can stop it close to the activity site of enzymes;
Redox reversibility, which enable it to involve in metabolism by enzymes.
FCAD keeps working on bridging the gap between basic research and application.
Technological Capabilities
Chemical Research to remain competitive and meet the demand for more complex structures.

Manufacturing Support Service for process transfer from the development stage to production.
Manufacturing Capabilities from research level production to full cGMP manufacturing.

Application Research with continuous investment to bridge the gap between basic research and application.