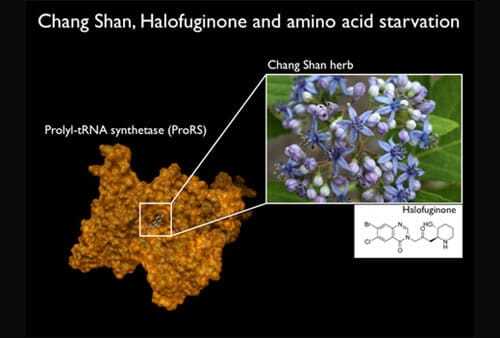 Brief Introduction of Halofuginone
Chemical derivative of febrifugine, Halofuginone is a natural quinazolinone found in Chinese herb Dichora. Previously, the drug was used in veterinary medicine; however, today it is being developed for the treatment of scleroderma and has received orphan drug designation from FDA.
Halofuginone is an inhibitor that inhibits the development of T helper 17 cells. The immune cells play a significant role in autoimmune disease; however, it does not have any effect on other types of T cells that are involved in normal immune function. It therefore has the potential for the treatment of autoimmune disorders. Since it also inhibits collagen type I gene expression, research is being carried out to understand the effect of drug on tumor cell growth.
Halofuginone as inhibits the enzyme Glutamyl Prolyl tRNA synthetase, and as the said enzyme is inhibited, it leads to the buildup of uncharged prolyl tRNAs. The build-up triggers the amino acid starvation response. It in turn exerts anti-inflammatory and antifibroic effects.
Current Research Studies
Toxicity studies in normal volunteers and animals revealed no major side effects. The drug was topically used in a patient suffering from scleroderma. Collagen is another important component of the stroma that is involved in endothelial cell migration and assembly to form and employ new blood vessels – angiogenesis.
Both angiogenesis and stromal support are extremely important for tumor growth. Based on the rationale, various tumor models are used such as prostate cancer, bladder carcinoma, and glioma. Inhibition of collagen demonstrated inhibition of collagen α1 (I) gene expression by Halofuginone.
Halofuginone caused inhibition of angiogenesis that arrested the growth of tumor. Therefore, the inhibition of collagen type I synthesis offers an attractive new target for cancer therapy. A number of possible targets for Halofuginone therapy pose enormous clinical problems, most of these without solutions.
Halofuginone has the ability to be injected, given locally and orally in extremely low concentrations, to inhibit collagen collagen α1 (I) synthesis transiently at the transcriptional level indicates that this compound meets the criteria for a successful and effective antifibroic and anti-cancer therapy.
Advantages of Halofuginone developed by FCAD
More recently, FCAD has invented a new chemical synthesis process for manufacturing Halofuginone. Halofuginone is a coccidiostat – a small molecule extracted from a Chinese plant with low purity in the past. The low molecular weight alkaloid is used in veterinary medicine to cure chicken coccidia.
The representative at FCAD talked about their chemical synthesis method, "We are manufacturing Halofuginone by chemical synthesis method. The method offers two advantages: The Halofuginone we produce can reach up to 98-99% purity unlike conventional methods; and secondly, we can manufacture it in kilogram scale and will scale up to a ton soon in our GMP certified factory."
Structure of Halofuginone